My Creative Business Runs on HoneyBook
How to use HoneyBook to streamline your workflow, elevate your client experience and grow your business as a creative entrepreneur
As a small business owner and creative, HoneyBook has honestly been the best thing to happen to my business (seriously guys). HoneyBook is essentially a client management system that helps you keep track of your clients and book more clients quickly and efficiently.
I've been using HoneyBook since 2018 and cannot imagine running my business without it! There are so many Customer Relationship Management (CRM) platforms to choose from these days but HoneyBook, in my opinion, turned out to be a dream come true.
Not only is HoneyBook geared toward creatives like myself, it allows me to put my best foot forward. The cherry on top, is that it truly adds that extra element of professionalism which helps me attract more ideal clients and grow my bottom line -- all while streamlining the client experience!
HoneyBook delivers a plethora of helpful features including: proposals, contracts, workflow, a client portal, the HoneyBook app, invoices, questionnaires, timelines, file sharing and other time savers like templates, a time tracker, welcome packets and so much more! HoneyBook also kindly offers discounts and referral codes for its users.
Below I'll break down each of the features HoneyBook offers that I find most helpful. Implementing HoneyBook has allowed my business to continue to thrive in ways I hadn't previously imagined.
As a HoneyBook Educator, I earn from qualifying purchases. This blog post contains affiliate links. I may earn a commission to fund my calligraphy and caffeine habits if you use these links to make a purchase. You will not be charged extra (in fact, you'll get a whopping discount), and you'll keep me supplied in ink and caffeine. It's a win for everyone, really.
CRM Software for Designers: My Favorite HoneyBook Features That Help Me Run My Creative Business
Professional Client Proposals
I love this feature! After receiving an inquiry from a new client and finding out more about what I can help them with, I set up a client portal and send over my initial proposal. HoneyBook allows me to send a potential client a digital bundle that includes an invoice, contract, timeline and any other documents I might need to share. HoneyBook provides all of the templates you'll need. Once you get a new proposal, you can add any type of template to it. This feature totally beats emailing back and forth attachments or working within GoogleDocs.
Contracts for Creative Entrepreneurs
The contract feature was just one of the many features that sold me on utilizing HoneyBook for my business. There is so much that goes into running a small business and getting paid for your creativity.
One of the more painful aspects of running a small business used to be drafting contracts, but not anymore. HoneyBook is designed with creative entrepreneurs in mind and has contracts already written and ready to be used based on the focus of your business.
Most templates featured on HoneyBook are wedding industry specific, which is great for wedding planners and calligraphers like me! The calligraphy contract featured was so thorough and turned out to be just what I was looking for. HoneyBook's contract feature made working with my commercial design clients an absolute breeze because it covers aspects like copyright. I cannot empathize enough how wonderful this feature is!
HoneyBook Workflow: The Ultimate CRM for Creatives
The workflow feature of HoneyBook helped streamline my business immensely. Workflow helps keep everything organized within my business. I always know what step in the design process I am at with each client at a glance. Workflow is completely customizable! I can set it up once with my design process from start to finish and have it reflect my workflow for each new client. This way, nothing slips through the cracks and my projects are completed on time without any issues! Nothing makes me happier than seeing my clients satisfied.
Client Portals That Design Clients LOVE
Stop it with the emails! Sending emails back and forth is now a thing of the past for me thanks to HoneyBook. I am able to send messages to my clients via the HoneyBook platform and since each client has their own portal, all of our messages are in one succinct place. No more scrolling through my inbox to piece together email threads! This feature makes it so much easier to keep track of each and every detail while interacting with my clients and is a HUGE time saver.
View payments, send files and receive real-time notifications from clients.
HoneyBook App
The HoneyBook App is reminiscent of Facebook Messenger but more professional. I can get realtime notifications from clients when they leave me a message or submit a payment. When a client submits payment for a project, I open my HoneyBook app and my screen begins raining down money like confetti! How cool is that! This never gets old and you can definitely tell this platform was certainly made by other creatives. Positive reinforcement anyone?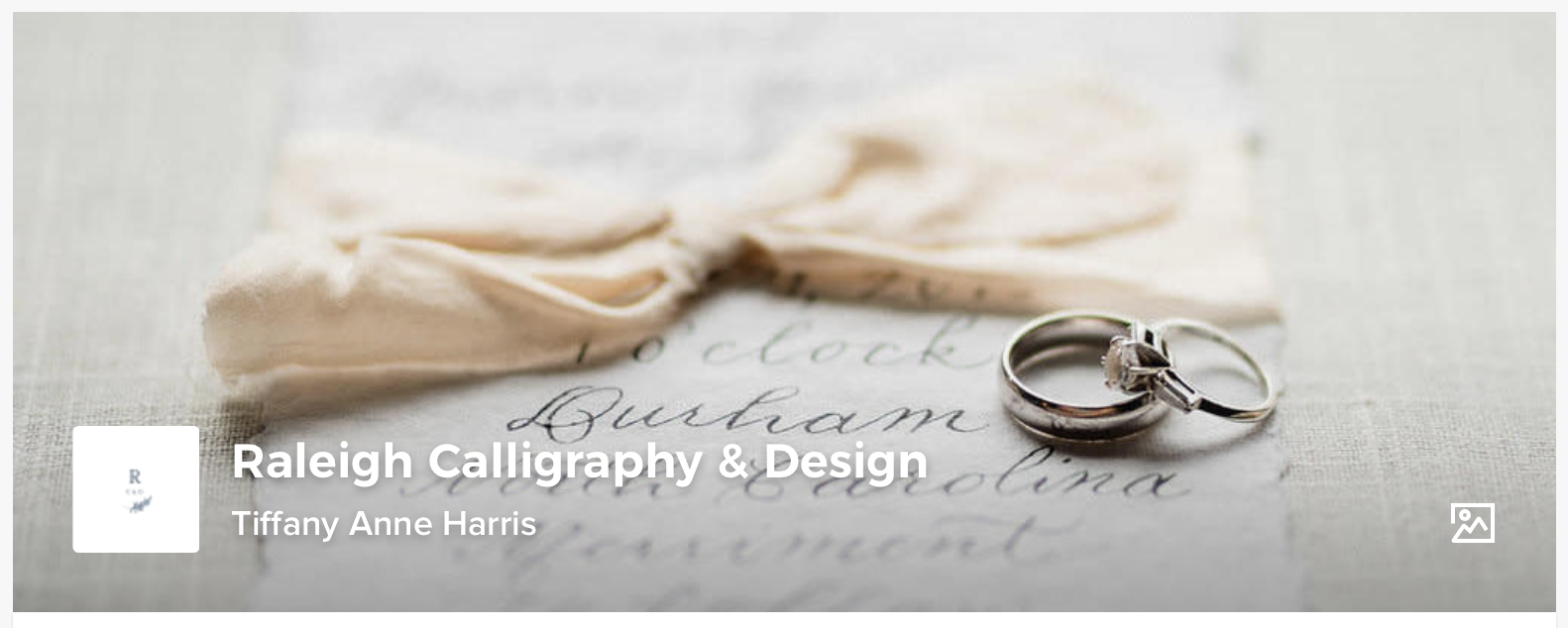 Customized for your brand, offer split payments and automated payment reminders.
Invoices Designed for Creatives + Fit My Brand Aesthetic
Alright, let's talk about payments. While I can take payments directly on my website, I can also take payments directly via HoneyBook. Since client details and projects are already on HoneyBook, it makes sense to invoice there as well. Invoices have a variety of features including split payments. Split payments are beyond helpful if your business happens to take deposits or requires payments when you hit certain milestones. I can set the amount of sales tax (if any) and even accept tips! HoneyBook also sends out automated payment reminders letting your client know when payment is due. This is just one more moving part I don't have to remember and can entrust HoneyBook to do!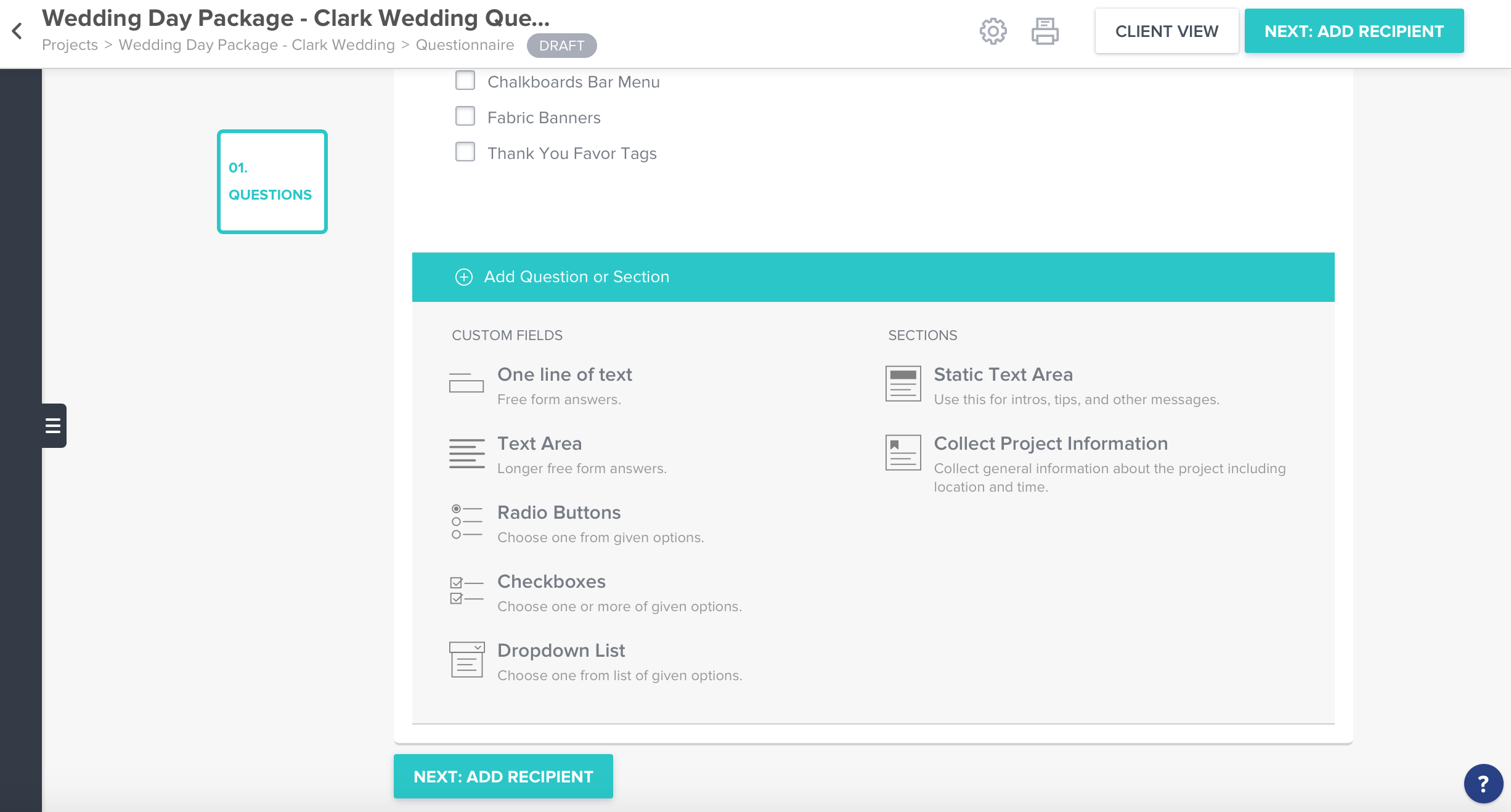 Client Questionnaires
Because I have a designing business, using questionnaires has been huge in the creative process and in helping me determine exactly what the client wants and envisions. HoneyBook's questionnaire templates allow me to build out a questionnaire with long or short form answers, radio buttons, check boxes, you name it! I have taken to using a questionnaire as part of my custom invitation design inquiry form. This helps me determine what services a potential customer is interested in. When I am on- boarding a client, I use more design oriented questions to understand my client's vision and any special details they've been dreaming of.
Design Project Timelines
The timeline feature of HoneyBook is so helpful for communicating deadlines and hitting milestones. There is no questioning of the dates for project deliverables and it helps me stay on track with each one of my clients. With HoneyBook, I am able to create a customized timeline for each client, adding in every major step in the design process. This means my clients always know exactly where we are in the process and I have a quick reference to stay on track!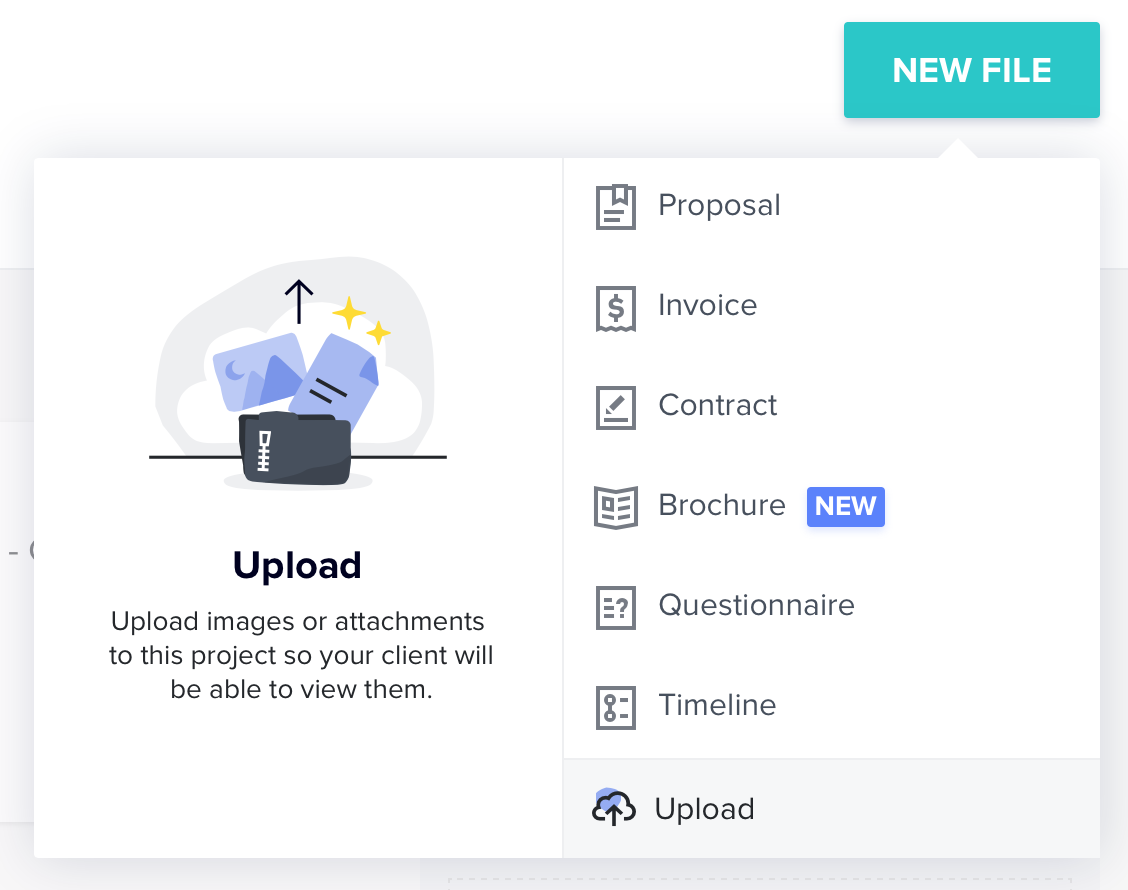 Perfect for keeping design proofs, mood boards and documents all in one place.
HoneyBook File Sharing
Sharing information with my clients has never been easier. I can share images, welcome packets, documents, design proofs, and much more! My clients are also able to upload their own files.
Other HoneyBook Time Savers
Last but definitely not least, on top of all of the other wonderful features HoneyBook also offers a time tracker, batch emailing, and a library of your most used files! This makes it a breeze to send files to clients from anywhere at anytime.
Discounts and Referral Bonuses
Intrigued yet? Here's another reason HoneyBook is an amazing tool you don't want to miss out on... For a limited time, HoneyBook is offering an exclusive 50% off when you register using my referral link below. when you sign up for HoneyBook using my personal referral link: http://share.honeybook.com/tiffanyanneharris, you'll get a 50 percent off discount and you'll have the ability to earn a bonus of up to $200 per referral! Seriously, what other platform has that kind of an offer?
To put it simply, HoneyBook has been a game changer for my business. Everything is streamlined, easily accessible and organized! HoneyBook was really the secret ingredient I needed to take my small business to the next level.