How to Write on Fabric + DIY Fabric Gift Wrap Tutorial
DIY Project: Fabric Gift Wrap
Psst! Pin this NOW and save for later!
It's official. Fabric banners are trending right now. And I'm oh so happy about it.
Lately, I've been getting a lot of requests for custom banners. Some small, to lovingly adorn the walls of homes. Some large, to serve as backdrops for weddings and photo booths. Let me just say, I am smitten with these sweet requests! As someone who loves all things paper, I can't help but swoon over the extra touch of texture fabric adds.
Recently, I was working on a large, 3'x6' banner for a photo shoot in Raleigh (pictures coming soon!). On the fabric, I carefully painted each line of the heartfelt poem, "A Ditty" by Sir Philip Sidney. If you are planning a romantic wedding and want to incorporate a reading of great poetry, THIS is a beautiful one.
Before creating the final piece, I made a draft on a small scrap of fabric. But when I was finished it was too darn pretty to throw away! That's where this idea came from. As a designer, I am often left with lovely pieces that may not have been right for the project but are so sweet in their own right. Not exactly a bad problem to have when the simple solution is to give. I used that small piece of fabric to wrap a hostess gift for a sweet friend.
With each hand lettered fabric piece I share, returns compliments followed by questions of how?!? One thing I LOVE about stretching my creativity is getting to share my process with others. You may be wondering just how to write on fabric, too. So follow the instructions below and I'll walk you through the steps for writing on fabric, which you can then turn into thoughtful gift wrap or anything else you can imagine.
This is just one of many new DIY tutorials coming to the blog so check back often.
Disclaimer: As an Amazon Associate I earn from qualifying purchases. This blog post contains affiliate links. I may earn a small commission to fund my calligraphy and caffeine habits if you use these links to make a purchase. You will not be charged extra, and you'll keep me supplied in ink and caffeine. It's a win for everyone, really.
Here's what you'll need:
Light Colored Fabric

Scissors (I love these Fiskars scissors)

Fray-Check to seal the edges (optional)

Paper towels, newsprint or rags

Iron or dryer for setting ink

The perfect gift to wrap in it!
GATHER. There are a few different ways to write on fabric. Start with a light colored fabric so your design will show. This project is perfect for using up scraps of fabric, but if necessary, cut the fabric down to the desired size before you start writing.
Then determine what type of fabric you have. If it's a heavy, canvas woven fabric (like the one shown here) then you can use paint markers or fabric markers. I prefer alcohol-based fabric markers because oil-based paint markers easily dry out when used on fabric. If it's an absorbent or lightweight fabric, markers will bleed in which case use a paintbrush and small amounts of paint or ink (see step 2).
DESIGN. Lay your fabric on top of the newsprint to protect your surface. Draw your design on the fabric using the right medium.
For this project, I used a dark gray fabric marker. If you do not have a fabric marker, oil-based paint pens will work as well.
When lettering "A Ditty" on the lightweight fabric, I blended white and black permanent india inks (used for calligraphy) and a fine brush. Watercolor paints can be used if mixed with a fabric medium. If you use acrylic paint, you may need to water it down with alcohol so it more easily glides over the surface.
IRON. Once completely dry, heat set the design with a dry heat on the highest setting the fabric will allow. I ironed this piece on high, circling the iron in small sections for about 30 seconds before moving on to the next section.
Depending on your final use of the fabric, you may want to seal the edges to prevent fraying in the wash. Since this piece was meant to be gift wrap, I did not seal the edges like I would normally do for banners.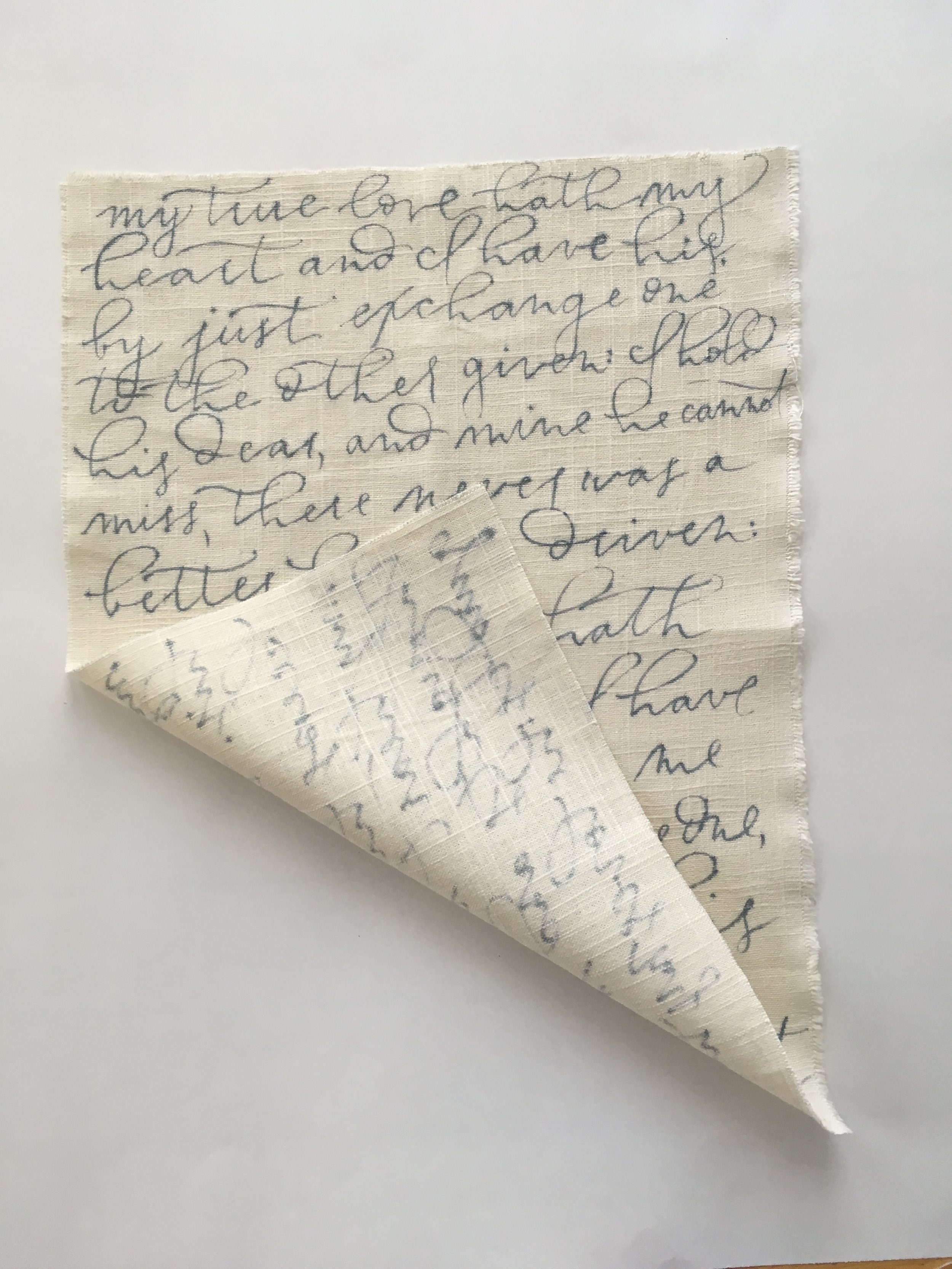 REVERSE. Flip over the fabric before wrapping your gift so the design will show on the correct side.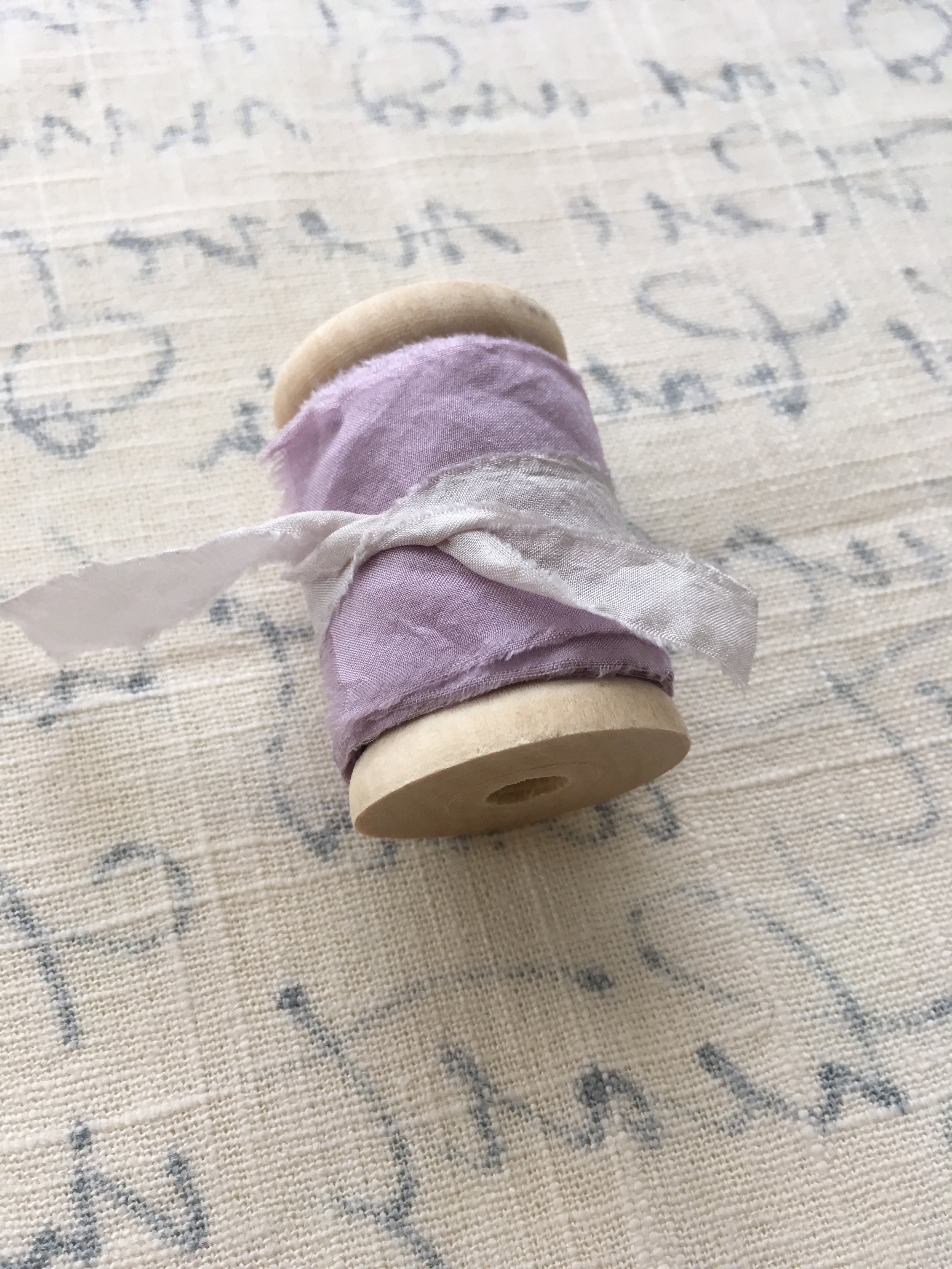 GIFT. Choose the perfect gift to give. This gift was for a wedding planner friend so I knew she would appreciate a spool of my handmade silk ribbon.
We eco dye the silk ribbons in our studio using natural materials like berries, leaves, fruits and veggies. The end result of these ribbons wrapped around wooden spools still has me swooning. You can check out all of the pretty shades like Barely Pink and Rose Taupe here.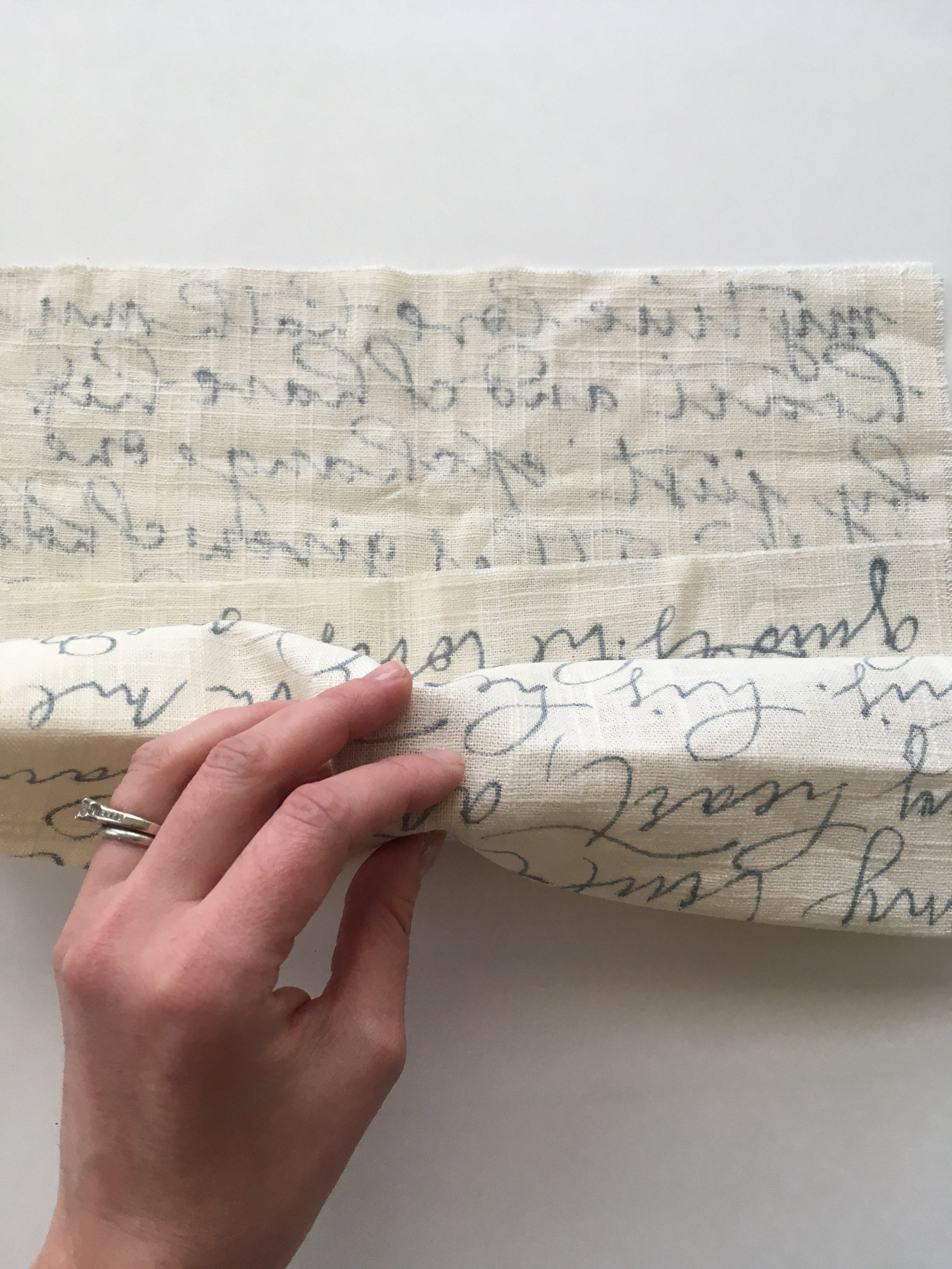 WRAP. Wrap your gift. Simply fold and keep folding until you're left with a little package. Unlike using paper gift wrap, avoid cutting the fabric down to size. Unless, of course, your design was a repeating pattern instead of a verse or phrase.
TIE. Tie up your sweet gift with ribbon or twine. Now you're ready to give! Fabric makes gifting small tokens or handmade gifts even more personal. Hostess gifts, housewarming, wedding or anniversary gifts are all great occasions for wrapping with fabric.
P.S. The traditional second year anniversary gift is cotton. If there was ever an occasion to hand letter a love note on a fabric banner or wrap a non-cotton gift in fabric, it's your second anniversary!
If you need help with the writing part, you can always drop us a line. We would LOVE to write sweet nothings on a fabric banner, table runner, gift wrap or whatever else you can dream up.
If you make this project we'd LOVE to see! Leave a picture in the comments or tag pictures on Instagram and Facebook with @RaleighCalligraphy. And as always, feel free to Pin away! (Psst! Are you a blogger? Check out our FAQs here before reposting on your blog.)
The perfect keepsake key chain to celebrate a first home or a hometown.